This plan was completed by three girls, two of them drove, one regular car, 1000 km, four days.
When I had to plan my Iceland trip, I found it quite difficult to make an itinerary that seemed realistic when it comes to the geographical distance, the weather, the road conditions etc. There were so many factors that I had to be aware of, especially because we went during winter – January 2018.
After a long time of research, I finally made an itinerary that I thought were realistic for 4 full days in Iceland. We wanted to explore as much as possible, but also not drain ourselves by driving a lot. We had 4 full days, and that's without the two travelling days – here is the plan we completed:
TIPS: Daylight in winter
Iceland winter rule is to start your days hours before sunrise. We planned everyday to arrive at our first stop about 30 minutes before sunrise. You can check the times here, so you know what time sunrise and sunset (called Maghrib on the website) is.
TIPS: Accommodations
We stayed the first and last night in Reykjavik, in the following hostel: Hlemmur Square Hostel, which I really do recommend. The location, the standard and the price is reasonable.
The next two days, we stayed in Vik – the following B&B: Guesthouse Carina
TIPS: Transportation
If you are more than 1 person, then I definitely recommend to rent a car. The airport shuttle is expensive, the organized trips are expensive and non-flexible. It is much more fun to stop whenever you want, and to stay at the particular stop as much as you want to. We rented the cheapest car Iceland have; and it was a good and spacious car with A/C etc.
I always use this website: Rental Cars
TIPS: Safety
I wasn't sure if driving in Iceland would be safe for us. I did a lot of research, and most importantly I wanted to hear from other travelers who have been driving. After reading their comments we decided that we would rent a car and drive safely. It was completly fine; though sometimes a bit slippery – but if you drive slow and are cautious then you'll be FINE!
Useful Websites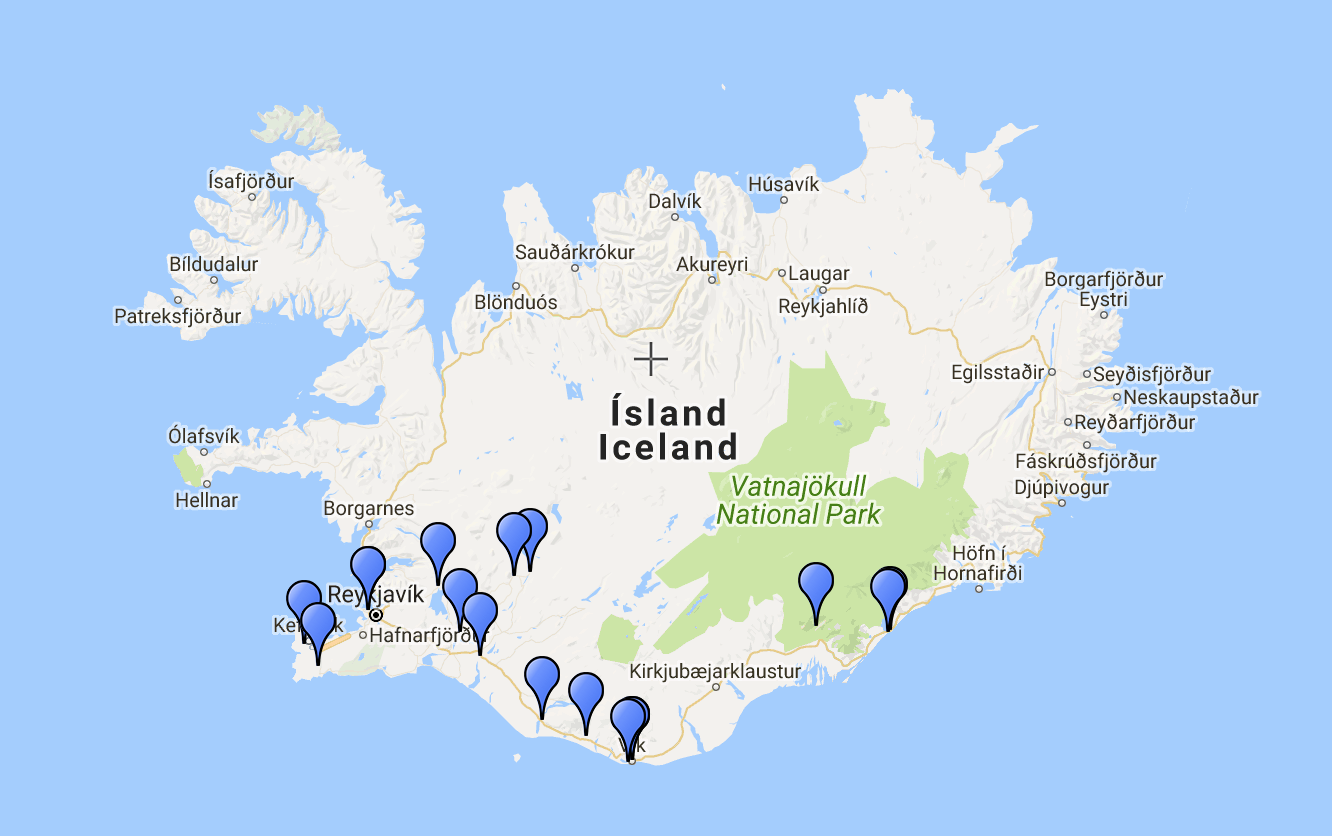 Arrival day:
If you arrive to Keflavik International Airport before sunset, you should take advantage of the day light. We drove to Keflavik, a small city, were we had some Dominos Pizza before we drove towards Reykjavik for approx. 45 minutes. If you still have the energy, you can walk around Reykjavik City in the evening, but most importantly is to get the hotel-receptionist to look at your plan so he can confirm. Iceland rule: Everything depends on the current weather situation.
1st day:
Sejlandafoss
Skogafoss
The Black Sand Beach: Reynisfjara
Vik – where we stayed for the night
Northern Light Walk – Notherlight Forecast
2nd day:
Skaftafell National Park
Jokulsarlon
3rd day:
Urridafoss
Kerid
Geysir
Gullfoss
Thingvellir viewing point
Back to Reykjavik
4th day:
Departure:
We had our flight early morning, so we stayed up all night and took of from Reyjkavik around 2-3 am. It takes maximum one hour to drive from Reykjavik to KEF Airport, and we needed time to return the car etc.