Copenhagen, or København! The Danish name of the city means: Buy-a-harbour, which goes back to the history of the city – Copenhagen was known for being a fisherman village.
But lets talk about the present 🙂
Talking about the Danish weather is one of the Danes most talkative topic. The weather in Denmark is extremely unpredictable, and can change from +20 degrees Celsius to 0 degrees Celsius overnight.
No matter what time you're visiting Copenhagen, make sure you are wearing warm clothes and good footwear since you'll be out a lot and walking a lot!
This itinerary is Muslim-friendly and covers most – if not all – of the must-sees of Copenhagen.
I hope you'll enjoy your stay! Please do not hesitate to contact me, by commenting on this blogpost, if you have any questions about my hometown 🙂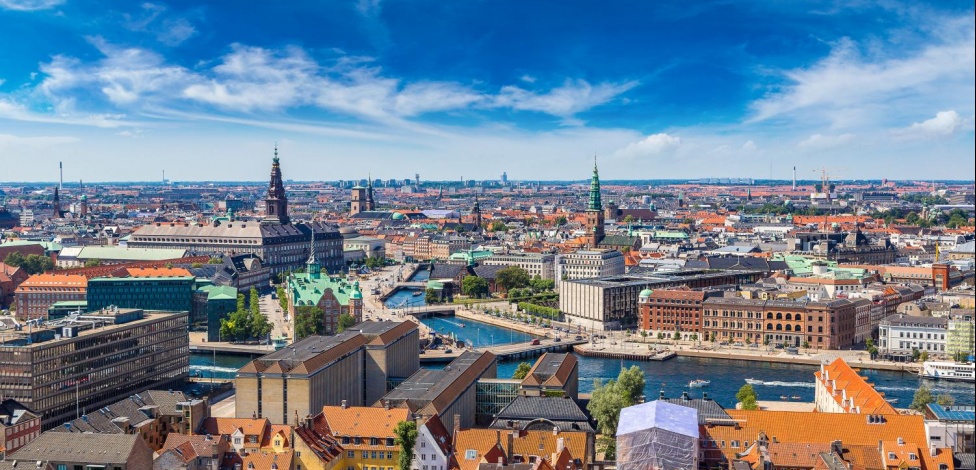 Day 1: Arrival Day
(Transportation: You need to take the train from the airport to Central station, and then again the bus from Central station to the mosque – so I do not recommend a day pass, since buying single tickets would be more expensive for this day).
If you arrive to Copenhagen Friday morning, you should start out your day by attending a Friday Prayer at 1.45 pm during summer time (and 12.45 pm during winter time) in: Hamad Bin Khalifa Civilisation Center/Mosque. It is the first official sunni mosque in Denmark,  and designed with a scandinavian-islamic design.
To make sure you can make the khutba/Friday Speech you should take the bus – since it is a bit far from centrum. (Bus 6a, bus stop is called: Rovsinggade – and then 10 minutes walk) Click here for Google maps.
After the khutba, you should stroll down 'Nørrebrogade' and have your lunch (The district is called: Nørrebro, you will find a dozen halal places, or see my recommendations HERE)
If you have energy to walk all the way to Nørreport Station (which is located in the City Center) – you should do that! On the way, you will pass by Torvehallerne, which is a food court. I don't recommend you to eat there, but maybe get some coffee and dessert or just some ice cream, before you continue.
Once you reach Nørreport st, walk through Strøget, which is the main shopping street in CPH. Stop up at Round Tower (Rundetårn) and go all the way up (price: approx. 4 euros), to see Copenhagen from above. Afterwards you continue your walk and go towards the City Hall/Rådhuspladsen. From the City Hall walk towards the Central Station/Vesterbrogade, where you will find many restaurants for instance; Kebabish.
NB! Even if its not Friday, or time for Friday Prayer – you can use the same plan.
Day 2: FULL DAY
(Transportation: I would recommend you a day-pass for public transportation or rent a bicycle for this day)
Start out your day by visiting the government building; Christiansborg Castle – take bus 2a, or a short bike tour.
Once you've been inside and all the way up to the tower, you continue by taking bus 1a to; Amalienborg Castle before 11.30 am (The bus-ride is about 15 minutes), since you have to be at the castle before 12.00 pm., where the guards will change their shifts. You will before reaching Amalienborg Castle see Frederiks Church (Marmorkirken), which is a beautiful marble church. Just throw it a glance from outside.
After your time at the Amalienborg Castle, walk towards the harbor (click for exact map-location), where you can take the boat-bus (line 991) towards The Little Mermaid – let the captain know, so he can guide you. The boat-bus sail every 40 minutes, keep that in mind, and optionally be back 40 minutes later 🙂
Once you're done, you need to take the boat-bus back towards The Opera – ask the captain before you get off the previous boat, just to be sure.
From the Opera you have to walk to Paper Island – Copenhagen Street Food (update: might be closed for construction), where you will enjoy your lunch! Enjoy your food and the atmosphere – even if the weather isn't good, your meal can be enjoyed inside.
Just few minutes walk from Paper Island, is Christiania; which is a self-proclaimed free state. This community is particularly known for their views of hash – they even have a pusher-street. You might think that this place is not Muslim-friendly, but besides the short pusher street you will find a cute small community with other things to see than the pusher-street.
(Additional)! From Christiania, you can visit the Church of Our Savior, where you can climb up spiral staircase to see another viewpoint of Copenhagen.
I would recommend you to walk back towards Paper Island, where you can walk over a newly build bridge to New Harbour.
New Harbour is during summer time crowded and touristy, but still pretty awesome place to enjoy an ice cream or some churros/waffles at Rajissimo.
When you're ready to leave New Harbour, you will walk towards The Royal Theater and Kongens Nytorv where you will find Magasin Du Nord, which is equivalent to Harrods or Macys. You can from Magasin walk through Strøget all the way to City Hall, or wherever you feel like going 🙂
 Day 3: Departure Day
If the weather is good, you have to try out the best ice cream in Copenhagen; Sicilian Ice cream on Skydebanegade. To enjoy your ice cream, walk through an old shooting-lane, which is a playing ground for kids today – it's called: Skydebanen – it's on the same street as the Sicilian Ice cream place.
By crossing Skydebanen, you will end up at Vesterbros Torv, which is a square with many cafés, shops etc.
If you have plenty of time before leaving to the airport, you should drop by the district called: Frederiksberg. It is super cute and romantic to just stroll through. You can from "Vesterbros Torv" take the bus; line 9a, and stop at the ZOO garden. If the budget isn't big for a visit to the ZOO – which is the best one I've been too(!), then you can walk through Frederiksberg Garden – where you can see the elephants – if you're lucky! No matter what, it will be worth a visit.
Halal Food in Frederiksberg – the options are many!