OUR FIRST STOP IN ASIA (31th of July-3rd of Aug. 2015)
Every time I told people that I would spend a couple of days in Jakarta, they told me not to. Mainly because of its dramatic traffic and it's just another boring metropolitan city – but we believe that you only have the fun you create yourself. We arrived to, Jakarta Soekarno International airport, late evening and left Jakarta early afternoon – but in between had 2 full days in Jakarta.
Hotel: "DREAMTEL Jakarta", where we stayed for three nights. It is a good average hotel – we don't need more 🙂
Taxa: A taxa from the airport to our hotel was approx. 40 minutes, which cost us about 130.000 rp = 9€
Transportation around the city: The easiest is by taxi or bajaj (tuktuk). In the beginning of our stay we always took bajaj but then found out that it's actually more expensive than taking a taxi – or maybe all the bajaj drivers took advantage by giving a high price! If you decide to take taxis, then you should only take "Blue Bird"-Taxis.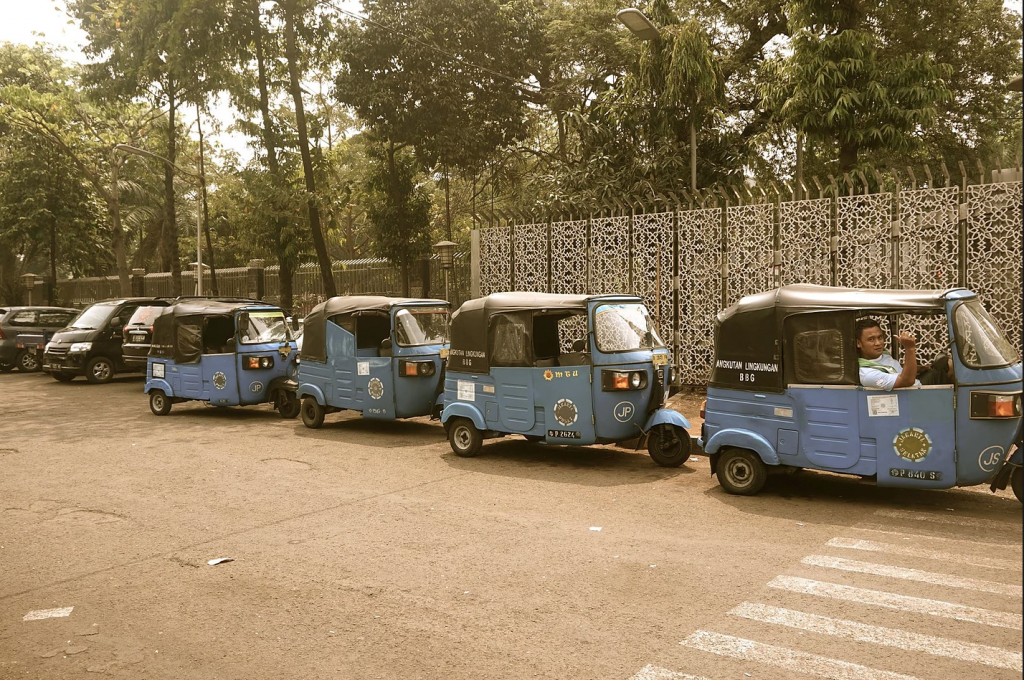 1st full day:
After having breakfast, the plan was to start the day out with sightseeing. But we unexpectedly fell asleep – Speaking about jetlag? So a few hours later, we were finally ready to explore Jakarta City.
We didn't have any plan, besides just wander around the city and see the sights that needs to be seen. We ended up doing the follow on our first day:
Took a bajaj to "Tanah Abang Market", which should be one of the biggest markets in Southeast Asia (NB. The biggest doesn't mean the best).
Afterwards decided to walk around and explore the area. Have you ever experienced being stared at? Well, we felt that everyone were staring at us, but that's probably because it was our first time in Asia after a few years and we noticed it more than usual, or maybe it's just because they have never seen Muslim female travelers? 🙂
After some shopping, we took a taxa to the National Monument in Merdeka Square. The National Monument symbolizes the fight for Indonesia and it is even possible to go all the way to the top of the monument. Just being around the Merdeka Square and the atmosphere were very comfortable and pleasant with all the kids running around with their kites and listening to the athaan for Maghreb-prayer from the Istiqlal Mosque.
Finally, it was time to have dinner, which we had at: MUMBAY CHILLI, a delicious Indian restaurant close to the Istiqlal Mosque.
2nd full day:
The jetlag is getting better and we are almost getting used to the time difference. It wasn't my first time travelling from Europe to Asia, but it was my first time being jetlagged. It's almost night in Denmark, when it's morning in Jakarta, so we have to get used to 7 hours time difference.
The second day started out with:
A visit to the Istiqlal Mosque (1978), which is the biggest mosque in Southeast Asia – it is so enormous and beautiful – and what amazed me the most besides the beautiful columns was the fact that, just on the other side is The National Cathedral(1990), which were our next stop.
The National Cathedral is built in a Gothic style like The Sagrada Familia in Barcelona. It is not a coincidence that the Mosque were built just beside the Cathedral, it was meant to represent the Indonesian diverse population. If that isn't co-existence, then I don't know what to call it!
Afterwards we decided to visit "Taman Mini Indonesia Indah", which is a beautiful "Indonesia Miniature Park", a park where you can explore whole Indonesia on short amount of time 🙂 To explore entire Mini-Indonesia we took the cable car around the park so you will see it all at once from above. It was a great introduction of our Indonesia trip, but I must say: kids may appreciate this trip a lot more than grown-ups.
Apparently, one cannot visit Jakarta without visiting a shopping mall! The biggest mall in Jakarta is the Grand Indonesia Mall. We had to buy some stuff that we needed, so after that we went to the food court where we could choose whatever we desired. What we had for dinner is nothing worth mentioning, but what's worth mentioning is the dessert my friends had (I don't eat dessert:)), but I believe my friends judgement: they had the best waffle ever; eggO Waffle! Their pictures speak louder than my words, so press on the name to see what I'm talking about 🙂
Departure day:
Before leaving Jakarta, we had about 2 hours in the city, so we decided to revisit the Tanah Abang Market again, because we had the desire too do some more shopping – silly and stupid decision!
So, was Jakarta really that bad?
As you can read we didn't explore something extraordinary, and I believe that two full days are more than enough. I'm sure that others can manage to do more things in one day, than we did, due to our jetlag and laziness. Or unless you are into museums or want to do some daytrips from Jakarta such as:
One daytrip to Thousand Island
One daytrip to Bandung
Ancol beach
Dufan Amusement Park
Car Free Sunday: It is an unique experience too see a mainroad in Jakarta with absolutely no vehicles. Every sunday in Sudirman-Thamrin street from 6 am till 12 noon.
Or many other options…
I believe that Jakarta has many other things to explore, depending on your interest, but I think that the mentioned are the must-see to get a taste of Jakarta/Indonesia.
A metropolitan is just a metropolitan. Jakarta is huge and might be a bit dramatic (traffic-jams) for some, but take it as a grain of salt and just enjoy your stay. It was a great city to get rid of our jetlag 😀
Next: Yogyakarta