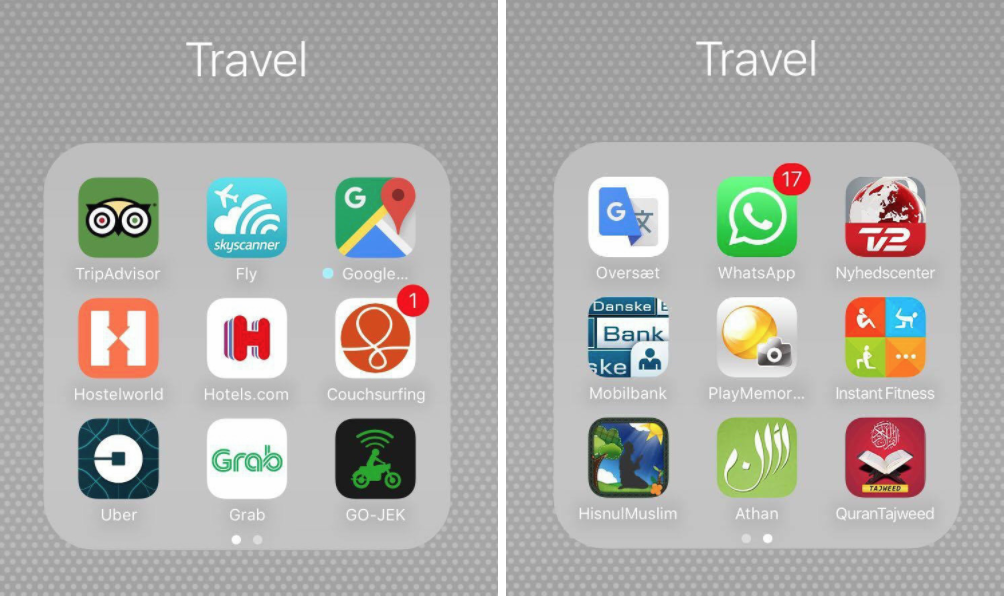 I can't imagine going abroad without this lille thing, called iPhone. Its not only a phone but my translator, calendar, my bank, hotel and flight booking, my everything!
So if you are taking your smartphone with you on backpacking or a ordinary vacation in southeast asia, here are some of the APPs i found useful!
TRIPADVISOR
My number one favorit app abroad is definitely
Tripadvisor
, if you don't know where to stay, where to eat or what to do this is the perfect app to use!
SKYSCANNER
Perfect app for purchasing flight tickets when ever needed. Whats great about
Skyscanner
is that you can find the cheapest ticket of the week or month. If we have time, we always go after the cheapest departure!
GOOGLE MAPS
To be honest, I think this is the app I used the most while abroad. Whenever I had to find an embassy, a restaurant, a mall, the university the first few weeks, my new home, the hotels, and so on and on – I had to use
Google maps
!
HOSTELWORLD, HOTELS.COM, COUCHSURFING
Of the three apps above, I mostly used
Hostelworld
. HostelWorld had great offers and many hostels to choose from. I only used
Hotels.com
when we had to book a hotel or resort (only when my family came to visit or in the beginning of our travelling (we didn't stay in hostels)). Whats great about hotels.com is the free night you get once you reach 10 nights.
I have never used
Couchsurfing
, but it's great to debate, find some events etc.
UBER (almost world-wide), GRAB (malaysia), GO-JEK (Indonesia)
Uber
has been used wherever and whenever possible. We feel safe every time we use an uber and the best part is that we can pay by using our credit card (which means less use of money = less withdrawal).
I only used Grab when Uber wasn't available in Malaysia.
Grab
is a regular taxi but by using Grab you are sure that they will use taxa meter instead of giving you a fixed price and the best part is that you don't have to go out and catch a taxi but instead just use Grab and wait for the cab to arrive.
I used 
Go-Jek
in Bali, every time we had to go somewhere by bike! I don't drive a bike so we just got a bike-driver and he arrived with an extra helmet – how perfect is that! You can use Go-Jek to so many other things – check it out 🙂
GOOGLE TRANSLATE
I love languages, so every time I saw a sign or just some words/sentences I had to know what it ment! Thanks to
Google Translate
, I learned many words in different languages!
WHATSAPP
This APP is never sleeping.
WhatsApp
makes it possible for you, to be in contact with your friends, family, travel buddies etc. I am in groups with people from all over the world. When I wake up from sleep, I have at least 50 unread messages, because people from the other side of the world have been awake. The most used APP abroad.
TV2 NEWS
I think its important to be up-to-date with whats happening at your home-country. So every time something "breaking news" happen, I would get a notification. In Denmark, the biggest news agency is called:
TV2 NEWS
, so I got their APP.
MOBILE BANK
I get my payment to my danish account, so to be financial-up-to-date I like to have my
mobile app
.
PLAY MEMORIES MOBILE
Play Memories Mobile App
is so cool! I can get my photos from my Hybrid Camera, to my phone without using my Macbook. It saves me time and gives me the opportunity to upload photos whenever I want 😉
INSTANT FITNESS
Fitness is so difficult if you aren't motivated, but remember to get moving at least 3 times a week, at least for 10 minute each time.
This APP is great
!
HISNUL MUSLIM, ATHAN, QURAN TAJWEED
These APPs are the most important APP to have on your phone!
Hisul Muslim, to remember the du'as to say whenever needed! When you travel especially!!!
Athan, whats great with this APP is that it give you the prayer time from each city you are visiting!
Quran Tajweed, if you don't have the physical Quran, then this app is great to remind you to read some of Gods words at least every friday 🙂
I hope you found these APPs usefull, please leave a comment if you have any app recommendation 🙂